THE N A V A R A T N A S
---
GIRL LEADERS IMPROVING THEIR VILLAGES.
---
Welcome to the NAVARATNAS.
The world's smartest, most creative, charismatic children.!
---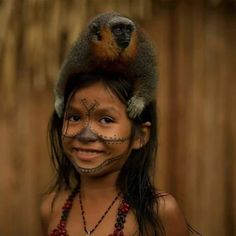 ---
Congratulations! You are a Navaratna,( from the Hindi word "jewel",) girl leaders who improve their village, choosing an Eco Teams from among your friends and companions, and receiving help from the internet community.

Not only are you popular for your work in saving nature, but you are the for-front of a new paradigm. The old system (favoring industry at the cost of nature) is out, and the new system (preserving nature and biodiversity and allowing only clean, green industry) is in, and you are the pioneers of that new paradigm. Appointed by the Nature Princess in any developing society, the navaratnas represent the intelligent and beautiful girls that abound in undeveloped countries but are underprivileged and ignored by the press until now, often subjected to abuse by male-dominated social customs.
---
Princess Vivi from Guatemala. The Nature Princess is chosen each year from the Navaratnas.
Children of the Amazon Jungle protecting their local forests receive funds and prizes from the world supporters. They are among the most popular Navaratnas. The Earthgardens favor children who embrace aesthetic local traditions.
. This is a member of the Bolivian Eco Teams in front of her team banner..
You may Email the Nature Princess to become a Navaratna.

If you are already with a team in India, Africa or South America you may receive the Navaratnas Guide here online. Email us about any of your concerns. All Eco Teams take pride in providing videos for the nightly EVENING ECO TEAM AWARDS on your local TV channel. Choose your funniest and most charismatic team member to present your team's video. These short videos are hugely popular with the viewing public and have provided real talent. Show off your beauty! Every active team gets a percentage of the donations the Earthgardens receive and many members support their families with this.

Remember.... ...Teams do 2 things: Improve the environment, (your village and the biodiversity around it), and welcome tourism with friendliness. The A F F E C T I O N the Eco Teams provide has been a major force in upgrading the local lifestyle in impoverished regions. Talented girls have a higher calling than just attending mediocre schools dominated by boys.

Form your Eco Teams of 4 to 8 friends, boys and girls together.
Eva Rosario, from beautiful Lago Atitlan, Nature Princess 2013.
This is a photo of a youtube video made by the Atitlan Eco Team, showing Eva's massive Coronation Banner in the making. Maya Indian teams make very funny videos, greatly appreciated by this rather somber ethnicity.!
Each Eco Team member has a personal, and a team banner.
The Navaratnas select the people in their area who are to be awarded for protecting nature.
---
Click this line to enter the 21 philosphical pages of the naturesavers.:

Love of animals. The fame of the Navaratnas.
---